Experience Electric Test Drive Event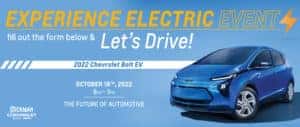 Experience the electric future of Chevrolet for yourself with the new all-electric Chevrolet Bolt EV. This is your opportunity to get behind the wheel of the Bolt EV, learn all about living with electric vehicles, and ask any questions you may have about going electric.
Sign up below to pre-register for the event. The event will take place at Hickman Motors Clarenville on 16 Shoal Harbour Drive from 9am-3pm. We look forward to seeing you!